0
How to disconnect the MKS TFT Screen from the Mainboard (for flashing firmware)
Written by Gavin Balcomb
So you wish to flash the firmware on your printer, it's actually surprisingly easy and I recommend you read the guide on how to flash the firmware using Arduino.
With the way the screen is connected to the mainboard on these printers, while the screen is connected it can interfere with the serial connection to the board, causing your flashes to fail. In order to complete the flash, it is often necessary to temporarily disconnect the TFT from the board, this guide will step you through that process. This guide is applicable to both the Genius and to the Sidewinder-X1 V4
Let's Begin!
1. The first thing we need to do is to turn the printer on its side so that we can undo the screws holding the bottom cover on, there are 6 screws in total and these are located in the positions marked by the image below.
2. Now we can carefully remove the 6 screws,
3. please be careful when removing the cover as the exhaust fan is connected to the board, you will need to gently disconnect the cable prior to completely removing the cover.
4. Now that the two boards are exposed we can turn our attention to the TFT control board we want to very gently try and remove the hot glue holding the TFT cable.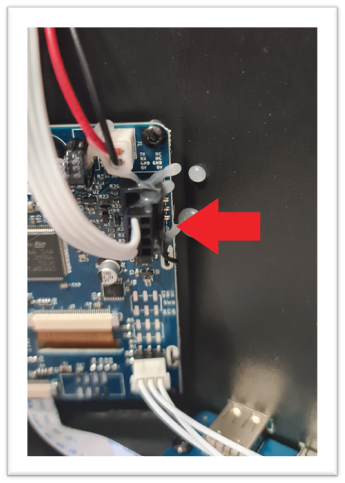 5. Once the glue is removed, or we are able to disconnect the cable without using excessive force, disconnect it.
CONGRATULATIONS! You can now connect the printer to your computer and begin flashing your firmware.